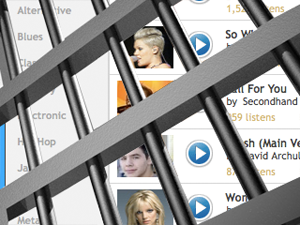 A new version of Lala was recently released. I wrote about them previously see: $20 Million Dollar Experiment to See if You'll Rent a Song for 10 Cents. With this new system they are moving toward a music locker like the company I run now, MP3tunes. Before I talk about their new features let me say that I really admire what Lala is trying to do. Their user interface is well thought out and some of their concepts are features I championed back in 2000 with my.mp3. However, saddled with onerous record label restrictions, the Lala system still limits what verified paying customers can do. Purchased songs are trapped in Lala's servers, facing an eventual death like DRM songs before them from Virgin, Walmart, Yahoo and Coke.
The world has changed dramatically since I did my.mp3 in 2000. My belief back then was that users should have rights to listen to their music anywhere. I had a second attempt which led to My Business Failure - AnywhereCD. I believe even more now that music fans want the music everywhere on any device. They don't want to see their purchases tied to one device, DRM scheme or company's service, which is sadly what Lala does.
Lala offers a capable and economical music store which sells MP3s, albeit geographically limited to the U.S. like so many others. (Media companies haven't realized that many users access US-only sites easily now from outside the US using services like AnchorFree.) What's novel with Lala's store is all purchases are automatically put into your locker. This sounds great until you realize it's more like a lock than a locker because your music can never be downloaded again. It is bolted into their server with a form of DRM. If you're at work when you bought it and need the song at home you're out of luck. If you want to listen to the song on your mobile phone while in the dentist chair (which I did today) too bad. Lala purchases aren't wrapped in Microsoft DRM but are wrapped with Lala DRM. Sadly but not surprisingly, music consumers are still treated like criminals - even when they can be 100% verified as purchasers.
Locker Comparison
| | | |
| --- | --- | --- |
| | Lala's Lock | MP3tunes Locker |
| Unlimited streaming, ad-free | | |
| Automatic file syncing | | |
| Downloading | —— | |
| Mobile phone | —— | |
| Internet radios (No PC) | —— | |
| Full access via open API | —— | |
| Mac, Linux, PC | —— | |
| All major file formats | —— | |
| Worldwide access | —— | |
Music in the cloud is a concept whose time has come, but any solution needs to honor the consumer's right to listen to their music anywhere. This is a core belief at MP3tunes and why the music industry is suing to have us shutdown. We make your music work on all your computers. This means supporting both streaming and downloading for those times when you're not on the net. We support most popular internet radio devices like those from Logitech, Reciva, Terratec and Noxon so you can access your music even without a computer. With our new Load2Mobile service we now make it a snap to turn any modern phone into a MP3 player. (I just sent a dozen songs to my phone so I'd have them for an upcoming car trip.) Finally, we have a public API so anyone can add a complete music experience to any device whether mobile, car or home. (We're going to have a few new partners showing devices at the CES show in January in Las Vegas.)
The new Lala service inches the industry forward, but crippling restrictions imposed by the labels limit its usefulness. Lala, in spite of giving shares in their company and millions in guaranteed up front payments to the record labels, still doesn't have the flexibility it needs to treat customers well. Here's what I recommend: go experience Lala's new store and buy MP3 tracks from them which are economically priced (many at $.79). But before you do, create a free account on MP3tunes and install our LockerSync software. This will take just a few minutes. Every new purchase from Lala will be then be automatically put into a full featured locker, where you can download it from anywhere and listen on any device.
-- MR
To discuss this topic with others, click here!





The Michael's Minute Meter



76%

17%

6%

AGREE
DISAGREE
MIXED
View the Michael's Minute Meter Report