MP3tunes submitted a legal response in the lawsuit filed against us by EMI for offering personal music lockers and the Sideload.com music search engine. We need your help to uncover evidence to bolster our case. More on that in a second, but first, some background information: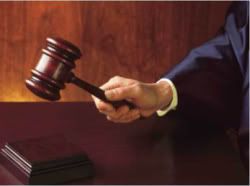 Our papers explained to the court how MP3tunes' services are protected by the DMCA, which limits liability for caching or storing files and providing a search engine. (Without this law every email service, web host and online-storage company could be sued out of existence.) In addition to outlining our defense, we filed counter claims against EMI for engaging in unfair, unlawful and deceptive business practices to further their own business interests. As the major labels have done for a decade – EMI is suing to stop digital progress and attempting to mislead the court by painting MP3tunes as a haven for piracy, while concurrently (and conveniently) ignoring their own extensive actions to promote and sell MP3s online.
EMI is telling the court (and the world) this lawsuit is about piracy when it's really about the label's continued legal assault on all new technologies that threaten to change their business. (See chart below). Record labels have sued to stop the development of portable MP3 players, search engines, video hosting, P2P services, hosted DVR, and many other technologies. Now EMI is attacking personal music lockers. No other industry has been as resistant to technology progress as the music companies.
Before the lawsuit was filed, EMI sent MP3tunes DMCA takedown notices which the law requires to be accurate under penalty of perjury. Three hundred and thirty works were listed along with demands that we remove them from Sideload.com. We immediately removed the links. EMI also claimed that none of the links to songs by any EMI artists in Sideload are authorized. (Sideload doesn't store any music files but simply links to tracks stored elsewhere.)
When we looked at the songs which EMI listed as unauthorized links we were surprised to see tracks from well-known music sources like Amazon, ArtistDirect and MTV. Additionally we found links for songs from an artist's own web site.
Examples of tracks listed as being unauthorized but which are stored on well-known music sites:
The Concretes, Sugar - from Amazon
Cracker, Low - from ArtistDirect
Underoath, It's Dangerous Business Walking Out Your Front Door - from MTV

(Note: These songs are no longer listed in Sideload.com, but are still available from their original sources.)
Even more disconcerting was EMI's claim that no songs by EMI artists were authorized be listed in Sideload.com. Ten years ago my company MP3.com popularized the concept of free promotional MP3s. Now all the major labels have embraced this concept as a valuable marketing and sales tool for both new and established artists.
EMI is probably one of the most aggressive labels when it comes to MP3 promotion. They distribute files from their own record label sites, from a wide range of music-related websites, and because the demand is high they actually have contracts with CDN (content delivery networks) like Akamai to serve music files for them. This year EMI successfully gave away a MP3 for I Kissed A Girl by Katy Perry which helped propel that song to #1 on both iTunes and Billboard charts.
The law requires EMI to be truthful in their takedown notices sent to service providers which they have not been. Many of the links they're complaining about are links to songs at locations they knew about and desired promotion from. Additionally, their claim that no links in Sideload.com are authorized is pure deception. EMI sent the takedown notices to us knowing that they distribute MP3s widely. They simply wanted to disrupt our music locker business, which is why we felt compelled to file our counter claims.
This is why we need your help. To prevail in our claims against EMI we need examples of where they use and promote MP3s and DRM-free music online. URLS for MP3s from their labels, artists and partner web sites and any comments from their executives could be helpful in proving our case. Here is a list of EMI artists and labels. And, an example of a helpful URL would be:
http://emichrysalis.co.uk/herculesandloveaffair/downloads/16_11_07/Hercules_Theme.mp3
This is a fun song from a retro-disco band called Hercules & Love Affair, and is from EMI's Chrysalis web site. It would also be helpful to have quotes from anyone affiliated with EMI touting the value of non-DRM music or the ability to have your music everywhere. If you worked with or at EMI and have insights into their MP3 or locker strategy this would be helpful as well. With your help I'm sure that we can uncover a lot of missing information.
Please send anything you find to: MP3tunesAttorney@gmail.com and our attorney will review it (and keep it anonymous if requested.)
Thanks for your support!
-- MR
To discuss this topic with others, click here!





The Michael's Minute Meter



90%

7%

1%

AGREE
DISAGREE
MIXED
Total Votes: 109
View the Michael's Minute Meter Report