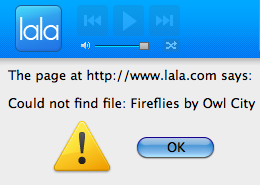 Apple has purchased digital music company lala - the originator of the 10-cent web song. Lala customers would rent these audio chunks for the low price of ten pennies and play them at the lala site. Since users can't download the songs, it's really a rental model because they will survive only as long as lala does.
While web songs have been positioned as a purchase there's no guarantee they will be around for any length of time. Lala states in their terms of use "la la reserves the right to modify or discontinue any of the Services and material displayed on or offered through the Site, with or without notice to you, and is not obligated to support or update the Site or Services." In case you're curious about how that impacts web songs; they explicitly say the songs could go away at anytime "la la may at any time lose the right to make certain eMasters or Web Songs available. In such event, you will no longer be able to stream those eMasters or Web Songs."
With any new owner comes changes and Apple will change lala. Apple definitely has its own plans for a music service and will make it an extension of their popular iTunes service. They will not want to run two music services, two data centers, two billing systems, etc. Lala's CD swapping service has already been shuttered. Recently Myspace purchased the digital music company iMeem and almost immediately closed down the service locking users out of their personal music and playlists.
In the short term, Apple will leave lala as-is, but the engineers and management will immediately be tasked with Apple priorities. The current lala service is innovative and, by all accounts, functions well but it's a huge money loser. Apple will need to radically overhaul the service for it to make economic sense. They'll naturally want to integrate the service with their iTunes software and —if they they can get new licenses which permit it from the record labels— with their iPhone and iPod touch devices.
What will the fate of the web songs on lala be? Likely, the lala.com web site will atrophy. No new content will be added. No improvements will be made. Quietly the business will die and at some point, be buried. The coffin will be stuffed full of 10-cent songs that people have rented. Renters may or may not have received 10 cents of value, but what's for sure is that their lease will be over.
Generally, renting is a costly idea. If you know what you want, ownership is a smarter choice. Lala deserves credit for fine engineering and innovation but labeling a 'web song' as a purchase is inaccurate and misleading and that will soon become clear to lala renters when their songs die. When utilizing a service like lala or my company MP3tunes, the question should be asked: "How long will the company will be around?" MP3tunes users can rest assured because every customer receives software to access their entire library of songs (including playlists). They're free to download their own music or even move it to a competitor. This insures that your music will never get buried.
--MR
michael@michaelrobertson.com
To discuss this topic with others, click here!





The Michael's Minute Meter



73%

14%

12%

AGREE
DISAGREE
MIXED
View the Michael's Minute Meter Report